Baycrest Global Solutions is composed of an experienced team of business and clinical professionals who work collaboratively with our clients to develop and deliver outstanding services.  Our team is supported by the expert staff and physicians of Baycrest to provide specialized advice when required.
Dr. William E. Reichman
President and Chief Executive Officer, Baycrest Global Solutions
Dr. William E. Reichman, an internationally-recognized expert in geriatric mental health and dementia care, is President and Chief Executive Officer of Baycrest, one of the world's premier academic health sciences centers focused on aging, seniors care and brain function.  Dr. Reichman is also Professor of Psychiatry at the University of Toronto in the Faculty of Medicine.
Dr. Reichman received a B.S. with honors from Trinity College in 1979 and an M.D. degree from the State University of New York at Buffalo, School of Medicine in 1984.  He completed residency training in general adult psychiatry at the University of California at Los Angeles (UCLA) Neuropsychiatric Institute and fellowship training in neuro-behaviour at the UCLA Reed Neurological Research Institute.  His academic interests have included Alzheimer's drug development and testing, behavioural changes in dementia, and the character and quality of dementia and mental health services delivered in congregate geriatric care settings.
Dr. Reichman is a former president of the American Association for Geriatric Psychiatry and the Geriatric Mental Health Foundation and is President-elect of the International Psychogeriatric Association.  He has advised several levels of government in the United States, Canada and China on the impact of an aging society on health care demand and the mandate to support innovative approaches to service delivery.  Dr. Reichman was also the founder and inaugural Chair of the Seniors Quality Leap Initiative, a collaborative of prominent North American eldercare organizations and their affiliated universities working together to advance the effectiveness of long-term care across the globe.
Among many honours that he has received, Dr. Reichman has been named amongst the Best Doctors in America and Canada, and has been recognized by the New Jersey Society on Aging as Gerontologist of the Year.  He served as the Senior Health columnist of the Star Ledger, New Jersey's highest circulation newspaper and has been quoted by all of the major media outlets in the United States and Canada. Dr. Reichman is a recipient of a Bronze Telly award for an educational documentary film that he co-created and hosted entitled, Reflections of Memory Lost: Understanding Alzheimer's disease.
Scott Ovenden
Chief Operating Officer, Baycrest Global Solutions
Mr. Scott Ovenden is the Chief Operating Office of Baycrest Global Solutions.  He also serves as Baycrest's Vice President of Clinical Programs and Corporate Performance with responsibilities for Hospital Services, Ambulatory Care, Client Relations, Quality and Clinical Risk.  Mr. Ovenden has over 20 years of healthcare experience working in a variety of clinical and leadership roles in both community and academic hospitals.
In addition to hospital operational leadership positions, Mr. Ovenden has also lead strategy, decision support, quality and performance improvement teams.  He has also worked as a management consultant and has supported a number of provincial process improvement projects.  These professional experiences have allowed him to work with a wide variety of stakeholders and develop a collaborative approach to supporting BGS clients.
Mr. Ovenden started his healthcare career as a physiotherapist, working in Canada and abroad in a number of clinical environments including: acute care, inpatient rehabilitation, complex continuing care and outpatient services.  Mr. Ovenden holds a Master's degree in Healthcare Administration from the University of Toronto.  For the last six years, he has served the Board as the Vice-Chair at Grandview Children's Centre, a community rehabilitation organization.
Raymond D. King
Vice President, Business Development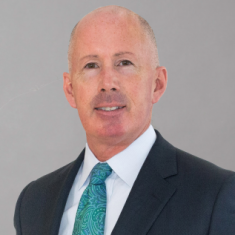 Raymond D. King is Vice President, International Business Development with Baycrest Global Solutions.
Mr. King has worked extensively in the international business arena for over 25 years, first in the financial services industry and most recently in the healthcare sector.  He has also worked in various senior-level capacities in Asia (including Mainland China) since 2004, and has gained extensive insight into the evolution of the Asian healthcare systems in response governmental directives around expanding healthcare access for all citizens.
Prior to joining Baycrest, Mr. King was responsible for the development of collaborations with paediatric acute care hospitals in Taiwan and China on behalf of a world-renown Canadian paediatric hospital.  In his current capacity at BGS, he is now focused on the development of strategic partnerships with Asian care organizations seeking to address the emerging demand for high-quality senior care in both hospital-based environments as well as long-term care and senior's residences.
Mr. King received a Bachelor of Arts degree, with a focus in Modern European Political History, from the University of Western Ontario in London, Ontario in 1988 and a Bachelor of Commerce degree in international finance from the University of Calgary in 1993.  He then pursued a Masters of Business Administration (MBA), with a focus on international strategic business development, from McGill University in Montreal, Canada, completing such in 1999.  He has worked in both the international financial services sector as well as the international consultancy sector, with a particular focus on development of new market strategies.
Dr. Anna Ballon
Executive Director and Principal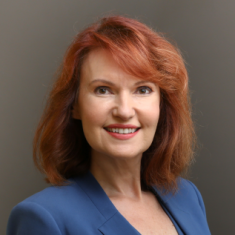 Dr. Anna Ballon has held multiple leadership positions across the health care sector in acute care, rehabilitation, and community settings.  A clinician by background, she has expertise in health system management, program development, accreditation, quality assurance, entrepreneurial growth, and policy evaluation.
Dr. Ballon has worked at the Ministry of Health and Long Term Care for the Government of Ontario, where she developed polices and health system for older adults and individuals with complex needs.  She has also worked with architects and developers in both Canada and internationally to design purposeful and ergonomic communities that allow individuals to age in place.
In addition, Dr. Ballon has created programs that span a continuum of residential and community options for older adults.  She is also a research scientist and is involved studies that have received $2.0 million in research grants to test new products that increase quality of life and independence for individuals 55+.
Dr. Ballon holds a Bachelor's degree in Occupational Therapy.  She also holds a Master's degree in Rehabilitation Medicine and a Doctorate degree in Health Policy Evaluation and Management from the University of Toronto in Canada.